Honor of Kings: One Game banks USD$1bn in One Month
by Will Freeman on 12th Mar 2019 in News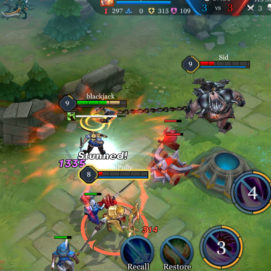 The mobile game Honor of Kings has generated USD$1bn (£757.5m) through the month of February.
By now, stories of free-to-play mobile games making extravagant amounts of money are relatively familiar, but the ramping success of TenCent's 'multiplayer online battle arena' game (more commonly a 'MOBA') is particularly fascinating.
The Chinese-made Honor of Kings is also known as Arena of Valor in various international markets.
The figures come from Japanese investment outfit Nomura, as reported by cifnews (via PocketGamer.biz).
Honor of Kings has long been successful, standing for some time as one of the world's most commercially healthy games. Banking USD$2bn (£1.5bn) through the entirety of 2018 made it the year's most successful mobile game, according to many reports. But the MOBA's February earnings mark a striking uptake in its financial fortunes. The reason for that increase, according to Nomura's report, is the arrival on 17 January of a single update to the game. The 2.0 update is the most significant Honor of Kings has seen, and its arrival triggered a ramp up of the game's daily active users (DAU).
The update included graphical polishing and various other tweaks, and remastered the game's roster of 105 heroes. That is likely to have brought numerous lapsed players back.
It's worth noting here that Honor of Kings enjoys most of its success in its home market of China; Arena of Valor has struggled to generate the same success internationally. The game's earning rise also highlights the power and potential of game updates; something we've looked at before here on TheGamingEconomy.
And, of course, this has come at a time when the Chinese state has moved back and forth on allowing games and updates to be approved for release in the local market. Presumably, the Honor of Kings update made it through approvals in a recent round.
Honor of King's February success doesn't only show the power of a game update; it also highlights how much potential was likely stifled by the Chinese government effectively freezing the ability to update and release titles in a nation that is home to the world's biggest games market. If Honor of Kings spotlights the potential of a Chinese game update, it also makes one question unavoidable: what other games could have succeeded with the freedom to update? That, for now, will remain a hypothetical.
TagsApp StoresChinaDeveloperGamingMobileMonetisationMultiplayerPlayersPublisherTencent