Merchandise & Brand Partnerships in Esports: Q&A with Sam Wells, Raven
by Mathew Broughton on 11th May 2020 in News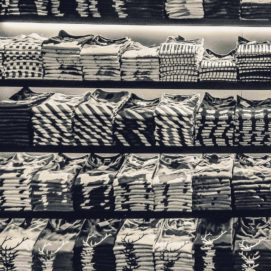 Following its USD$1.4m (£1.1m) seed funding round in April, TheGamingEconomy speaks with Sam Wells, Managing Director of clothing brand Raven, to discuss the development of performance-based merchandise, and how non-endemic brands are set to enter the esports ecosystem.
How will the funding be used across manufacturing and marketing to expand Raven's product offering?
For us, it's about building the business and developing the current markets that we operate in. The funding will be used for product development mainly, to drive innovation within the performance sector. One of the issues with esports apparel in general is that, although there's a lot of great things going on in terms of street-wear inspired clothing, the performance side of things has not been explored in great detail like it has been in other sportswear sectors such as football. For instance, Nike and Adidas are obviously at the top tier of sport and those brands look at ways that clothing itself can actually improve the performance of an individual. So for us, a large part of the raise will be about how we can explore that performance avenue and how we can actually look to improve not only that performance interaction with esports players, but also consumer experience when it comes to purchasing apparel within esports.
Again, looking at the traditional sporting world, when you look at retailers like Amazon, you're talking next day delivery. That's the sort of consumer experience people want, and I don't think it's really there yet in esports. So for us, in terms of what we do at Raven, it's really about expanding the current markets that we work in and ensuring the consumer experience is the best it can be when it comes to designing, creating, and purchasing, side of esports apparel.
How is Raven balancing its apparel range to cater for professional esports athletes, as well as grassroots-level organisations and individual fans?
We focus on the two ends of the spectrum. In terms of professional esports athletes, we want to explore their requirements in greater detail and then look at areas where the clothing has a functional impact. Again, improvement of athlete performance is key for us. Going back to traditional sports like football as an example, these are physically driven, whereas for esports it's more cognitive, so we explore the performance side of things alongside comfort.
When it comes to grassroots, it's about filtering down high-level R&D projects, making sure these go from the top level all the way down to the grassroots. The requirements for grassroots do differ from the professional side of thing, because it's more about the freedom to customise apparel. When you look at the grassroots teams, it's mainly about creating brand identity, as well as working with lower quantities as well when it comes to the apparel itself and being flexible. So there are different markets there in terms of product offering, so we look to explore each of those avenues in greater detail and aim to provide an improved customer experience, product, and overall customer journey.
With mobile esports on the increase, are there product innovations you're looking towards specifically for this market?
We're certainly looking towards developing different garments for those different areas. Mobile esports is completely separate to PC, which itself is totally different to console. Each of those markets have nuances in terms of what the consumers are looking for, and how consumers react to individual products. We work with a number of pro-level teams from mobile e-sports like Tribe for example, to PC teams such as Dark Zero, as well as console teams. Each of these have a different consumer base and target audience, so it's about designing and manufacturing products specifically for that audience, and looking at how to innovate in factors like functionality, comfort, and aesthetics.
How has the coronavirus pandemic impacted the funding negotiations, along with day-to-day operations at Raven?
In terms of the funding, we had been working on it for a number of months, so fortunately the pandemic didn't really cause too many issues on that end. Internally we are working remotely, which is a bit different for us, and obviously following UK guidelines on movement etc, which has an impact on the day-to-day logistical side of things.
While there's not too many events going on, we're looking at how we can use the capital from the funding to expand the business. This sort of downtime has enabled us to do that, because under normal circumstances we would be doing the day-to-day activities such as managing clients. Whereas, when there's a little bit less of that, we can actually use this time to focus on our expansion and how we can execute our strategy moving forward.
With esports seeing a surge of attention while traditional sports are suspended, has this translated into increased sales? What steps can the esports ecosystem take to retain this momentum despite live event cancellations?
On the commercial side of things, some areas have improved, while some areas have probably lagged a little bit. With the fact there are no esports events going on, consumer needs differ, and looking to the wider economic impact, consumer spend has gone down. For instance in UK high street retail, April has been the worst month since December 2008, due to stores being closed. Being in e-commerce, we're fortunate to be able to operate on reasonably normal basis still, and esports is a market driven by consumers saying at home playing video games, so we have not seen a huge impact when compared to the traditional retail market. You go to a high street retailer to buy your day-to-day clothing, whereas for e-sports it's a more niche product, it's clothing for a specific need. While there's not been too much of a change in demand on that front, there has certainly been some change in regards to consumer behaviour. Since we're hopefully past the peak of things, that should change as events pick back up.
However, I think there's a really important lesson for esports, in how we can really explore different ideas in regards to areas where there's not a lot of activity going on. During the crisis, we released a new esports performance sleeve for PC gamers, designed to reduce friction on their arms while playing. While we developed the product over the past number of months, it's something we decided to release during the coronavirus outbreak, and in terms of performance that product has done very well. It's about adapting to different things, finding different needs, and really understanding both consumer behaviour and what the current market is looking like.
With major brands such as BMW signing major esports sponsorship deals, do you predict further brands, which have not traditionally engaged with esports audiences, following suit? What more can be done to encourage their involvement in the sector?
It's more and more likely that non-endemic brands will enter the esports market. It has a highly-engaged young audience, so I'm not surprised BMW have entered and have targeted some of the biggest teams. The figures within esports speak for themselves in terms of viewership and engagement, and you're not going to to find such a highly engaged online-based audience elsewhere. The majority of esports consumers are on all the main social media websites and strongly interact with content. To find such an audience is rare, so I fully believe there will be more brands entering the market and finding ways to utilise esports in general, whether that's through events, online, or sponsorship. We know there's many other non-endemics in the market, like KFC which is doing a lot in terms of social media. The more that social media presence grows, the more brands will enter the market.
Where brands may have been hesitant previously is because it is an entirely new market. In regards to the consumer base, esports consumers are different to other consumers in terms of the media they engage with. It's about understanding that, trying to stay organic, and not come across as too forceful in terms of the marketing.