GDC Day One Roundup: Unity Partners with Tencent, Call of Duty Goes Mobile & How to Catch that Google Keynote
by Will Freeman on 19th Mar 2019 in News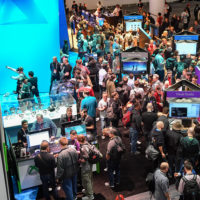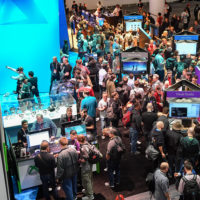 With the first day of the huge Game Developers Conference 2019 behind us, it's a chance to reflect on key news from the show. Here we'll bring you quick spotlights on key stories; something TheGamingEconomy will do every day of the show. The sheer volume of stories can make it hard to keep up, and separating the wheat from the chaff is a time-consuming business. That's why we're here with quick reads that bring you the stories that matter. So let's dive in.
GDC's opening day saw game engine outfit Unity host their own press conference, at which they revealed a new partnership with Chinese tech giant Tencent. The partnership will focus on the new streaming service, Tencent Cloud. Streaming is presently the talk of the industry, as Amazon, Microsoft, and more, all move in on the space. Earlier this month, we also saw hardware specialist Intel partner with Tencent on game-streaming services.
The industry is equally waiting in anticipation for Google's imminent GDC address, which is likely to confirm their new game-streaming service. Google has promised to "unveil Google's vision for the future of gaming", and will do so at 5pm GMT. If you aren't at GDC, you can tune in via Google's specially prepared Youtube Channel. In fact, you can even watch it right here at TheGamingEconomy...
Back at Unity, the Tencent deal is seen as a means to help developers not only harness a new streaming platform, but also move on the vast Chinese gaming market. As detailed by Venture Beat, it was also confirmed that Unity is being used for the coming Call of Duty Mobile release. Which brings us to our next GDC story.
Call of Duty Mobile is coming, seeing one of the world's most successful and famed entertainment franchises make a new move on smartphone. We've seen mobile releases based on Activision's first-person shooter IP before, but most have been relatively distant spinoffs, such as 2009's Call of Duty: World at War – Zombies. Here at TheGamingEconomy, we even have a copy of the 2004 release for Nokia's doomed N-Gaga gathering dust on a shelf.
This time around though, Activision is clearly endeavouring to deliver a core Call of Duty experience, and seems to be readying for a move into the territory where battle royale games like Fortnite have thrived on mobile. As reported by MCV, it is expected the new game will include Call of Duty's battle royale mode 'Blackout'.
"This is console quality PvP matches, right in the palm of your hand", promised Activision's VP of mobile, Chris Plumber, speaking on stage. "And it's all built within Unity."
The game is also built in partnership with Tencent; a company with such a presence in the games industry today that it seems to star in every news story there is.
Elsewhere, former Riot Games designer Kimberly Voll and Valve Corporation alumni Chet Faliszek revealed they had formed a new co-op gaming studio named 'Stray Bombay'. Considering Voll's beloved indie works, and Faliszek's previous roles as a Portal writer and the figurehead of Valve's efforts with VR, the team is likely to be closely watched by industry and consumers.
I'm super excited this #GDC19 to announce that @chetfaliszek and myself are starting a new game studio in Seattle--Stray Bombay Company (@straybombay). Read our details https://t.co/q5wiGY3xXs... at GDC all week looking for people to come join us! <3

— Kimberly Voll (@zanytomato) March 18, 2019
Speaking via the Stray Bombay website, Voll explained: "We think now is the time to change the culture of game development. Make everyone equals, not just in their impact on the project, but in how we divide the loot of our success. Relax strict PTO policies because we trust each other to take the time you need. We want to build games that reflect our culture.
"We are supported by likeminded, patient investors with Kevin at Upfront Ventures as our lead, who has known us for years, working with Chet on a gaming startup board, as well as Riot Games. They love and understand games but, more importantly, have time and again backed founder-led and employee-owned tech startups from the beginning towards long-term, independent success."
Stray Bombay are using GDC as an opportunity to find talent for the studio.
Finally, a German mobile developer and publisher announced plans to expand through the acquisition of mobile game IP.
"After investing massively into game features and content updates, we are currently scaling Warlords of Aternum worldwide", explained Armin Busen, chief product officer at InnoGames. "Based on this successful integration, we decided to expand on the strategy."
Image Credit: Official GDC
Activision BlizzardDeveloperesportsGamingIn-AppMobileMultiplayerNorth AmericaPlayersPublisherStreamingTechnologyTencentUncategorizedUSUSA