Intel & Tencent Partner for New Game Streaming Service
by Will Freeman on 1st Mar 2019 in News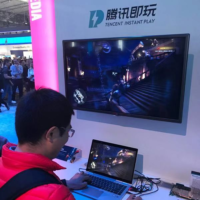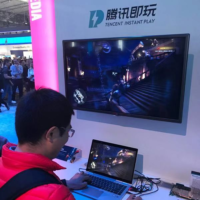 Computing hardware specialist Intel and Chinese tech giant Tencent are expected to announce a co-developed game streaming service at this month's Game Developers Conference.
The likely announcement emerged after a series of tweets from Daniel Ahmad of market research and consulting business Niko Partners. Convincing images shared by Ahmad appear to show a service capable of streaming 1080p games at 60FPS with a delay of <40ms.
If gaming display and streaming specifications aren't your thing, you can be assured they promise a capable high-definition gaming experience.
Tencent and Intel are partnering on a new cloud gaming service called 'Tencent Instant Play'. The service will work on PC and Smartphones.

It works similar to already announced services such as Microsoft's Xcloud and Google's Project Stream. pic.twitter.com/7KUIsNI7O2

— Daniel Ahmad (@ZhugeEX) February 27, 2019
The service will apparently be branded as 'Tencent Instant Play'.
Adding validity to Ahmad's claims is the fact that Intel and Tencent are co-delivering a talk on cloud gaming at Game Developers Conference. More commonly known as GDC, the huge gathering stands as the world's most significant game development conference. The talk, titled 'Streamed Cloud Gaming Solutions for Both Android and PC Games', promises to "share a technical overview of Tencent's leading cloud gaming solutions for both Windows PC gaming and Android mobile gaming based on Intel's latest emerging visual cloud technology".
The description also reads: "Cloud gaming is getting a lot of press lately. Come hear what Tencent is doing, as the leading cloud service provider in China. They are embracing the cloud to deliver graphic-intensive PC and mobile games, as well as core developer solutions. Learn about their technical approach to reduce development costs associated with new game releases, updates, and maintenance. Understand how they are meeting the evolving needs of gamers everywhere in the growing cloud gaming world."
So far, no mention of iOS.
We've talked about streaming here on TheGamingEconomy before, of course. Game streaming is nothing new, but previous iterations such as OnLive may have suffered from a relative lack of awareness and consumer internet infrastructure capacity.
Now, with video streaming platforms normalising the delivery system, a number of major outfits are moving on becoming the new 'Netflix of games'. Netflix, of course, wildly disrupted conventions of film and television distribution, consumption, production, business, and marketing. With so many major players moving on game streaming, there is some chance it may provide a wave of disruption comparable to the arrival of the arcade, home consoles, and smartphones.
At least, that's what the teams behind Microsoft's Project xCloud and Google's Project Stream might tell you. Both are developing game-streaming platforms, with Google set to detail its own major gaming news at GDC in a few weeks. And, of course, Amazon is rumoured to be readying a game-streaming service in 2020. With the successful Prime video streaming service well established, and Amazon providing a range of tools and backend services to games developers for several years now, the company already has a significant relevant ecosystem in place.
A boom in game streaming may not change games themselves too much; ultimately, the approach simply places games on a central server, after which they are sent to a display at the consumer end. However, that set-up could radically alter consumption habits, because – as with Netflix ­– it will likely offer access to a large and diverse library of games. That could impact the economy around games. Paying for a single title may suddenly become less appealing, while access to numerous games as a new default might undermine the value proposition of free-to-play.
The knock-on effect may change what type of games prosper, and alter how monetisation and engagement technique and practice function. There may even be a new focus on episodic releases, and new understanding of what 'content binging' may mean to video games.
Game advertising and ad tech could also be impacted, although much convention there could be inherited from lessons learned on platforms such as Youtube. Equally, a move to subscription spending could alter the status of the premium and in-app-purchasing models. That may also change ads' role in gaming. Subscriptions have seen the likes of Netflix monetise without the need for third-party ads.
Meanwhile, the very form and function of games consoles could shift radically, if this generation of game streaming attains a meaningful foothold. Devices that received streamed content require limited processing and storage power, making them much cheaper to produce, and more affordable to consumers.
Ad TechAdvertisingAudienceChinaDeveloperGamingIn-AppM&AMonetisationPlayersStreamingTechnologyTencentUncategorizedVideo