Fortnite Hits 200 Million Players
by Will Freeman on 29th Nov 2018 in News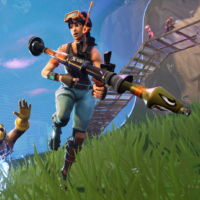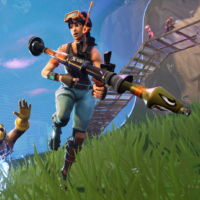 Video game sensation and global cultural phenomenon Fortnite now courts the attention of 200 million players.
That's according to Bloomberg, which points out that the shooter's user base is now approximately comparable to the populace of sizeable nations like Brazil. Put another way, it's well over 3x the entire population of the UK.
That's impressive for a handful of reasons. Fortnite is an established success, of course. Even so, the new user numbers mark a 60% increase from the 125 million registered players that developer Epic revealed in June. While Bloomberg doesn't appear to confirm where it got the new figures from, it does point out that 200 million marks a fivefold increase of the game's January player tally. But it's not just that the numbers are formidable. Fortnite has seemed to, thus far, both negate saturation of the potential market and retain players over extended periods.
The early-November South Korean launch no doubt helped with the new milestone, which came at the same point that Fortnite attracted a quite staggering 8.3 million concurrent users.
Equally impressive is the fact that the entirely free Fortnite: Battle Royale generates its revenue from selling cosmetic items; that is to say, digital downloadables that do nothing to improve the player's chances on the shooter's battlefields. Players, it appears, are happy to drop cash on the game purely to personalise their in-game avatars. Part of that level of engagement is likely down to the fact that Epic consistently offers new cosmetic content, via partnerships like those recently made with the NFL and Marvel comics. Giving players the chance to don the outfits of their favourite sporting luminaries or fictional superheroes appears to be irresistible.
However, while Fortnite's registered user count continues to climb, its financial fortunes are a little more nuanced.
Fortnite initially debuted as the co-op survival shooter, Fortnite: Save the World, launching into paid-for early access in July 2017. By September that same year, Epic had also put Fortnite: Battle Royale into early access. It is the free-to-play Battle Royale that is the version of the game doing sensationally well, and you can bet when people mention 'Fortnite', they are very likely talking about that release. Its subtitle refers to the format; online multiplayer versus shooting and a shrinking play area, with a last-contestant-standing structure that sees one user emerge victorious in each match.
The reason that lesson in recent history is worth recapping? To highlight the fact that Fortnite has done very well, very fast. By the end of May this year, it had brought in USD$1.2bn (£935m). In that month alone, the game made USD$318m (£247m), according to Superdata's research.
But around August this year, as Fortnite player numbers continued to climb, it was suggested Fortnite revenue growth might be slowing. As reported by PCGamesN, in July this year Fortnite profits were only up 2%; an apparent decline on previous month-on-month growth.
The aforementioned Superdata research also pointed to the fact that, while Fortnite's October 2018 revenues showed a 20-fold increase on the game's fortunes in October 2017, ranked by earnings it was the month's fifth most successful mobile game, third most prosperous console game, and failed to make the mobile top ten.
That's not to say Fortnite has reasons to worry; not at all. Rather, there are nuances to its upward curve, and many other games are doing very well in isolated time periods. Still, as well as putting wind in the sales of the global games industry for over a year, it has made Epic, and its founder, very rich indeed. After an October 2018 investment round of USD$1.25bn (£973m), the company was valued at USD$15bn (£11.68bn).
And then there's Tim Sweeney. The devoted coder founded Epic in the 1990s, and serves as company CEO to this day. It is believed that the success of Fortnite has made Sweeney worth between USD$5-8bn (£3.91-6.26bn). TheGamingEconomy's editor interviewed Sweeney on stage for The Develop Conference keynote back in 2013, looking at his lifetime with games, and some time before Fortnite's emergence. To get a sense of how Sweeney built his empire you can view that keynote in full here:
AudienceDeveloperesportsGamingMobileMonetisationMultiplayerPlayers