Google confirms pricing structure, launch details and games for cloud-based Stadia gaming platform
by Will Freeman on 6th Jun 2019 in News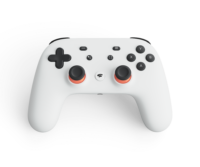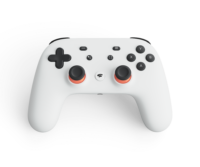 Google has moved to reveal more details on its eagerly anticipated Stadia cloud-gaming service; namely pricing structures, launch details and launch games.
The gaming platform - due in November this year - requires no console-like 'box' or dedicated hardware beyond a game controller or mouse and keyboard. Instead, games will be streamed over the cloud direct from Google data centres to customers' screens and controllers. Stadia will be available over smart TVs, laptops, desktop computers and smartphones. Users will access the games via Google's Chrome browser, meaning a Chromecast receiver will be needed for televisions.
Pre-ordering customers can - from today -  opt to pay $129 (UK users will have to pay £119, which isn't a direct conversion) for the Stadia Founder's Edition, giving them access to the service from launch day. That pre-order bundle comes with a limited edition version of the standard Stadia Controller, a Chromecast Ultra, a three month 'Stadia Pro' subscription, and a second subscription for a friend, as well as an early access opportunity to secure a preferred player name. That latter point may sound trivial, but it may prove to have a powerful allure for many gamers, who to a degree can see their identity expressed and defined by their online player handles.
After the three months available to Founder's Edition customs concludes, a Stadia Pro subscription will become the standard option to gain access to the cloud platform, costing USD$9.99 or £8.99 a month. That rate will grant users access to numerous games, with more titles added monthly. A subscription is the only way to receive the highest-quality Stadia experience, with games streamed at 4K and 60FPS with HDR and 5.1 surround sound. However, that will require a 35MPS internet connection; a speed increasingly common in the home.
During today's stream Google also revealed that over a modest 10MPS internet connection games will still be able to display at 720p, running at 60FPS with stereo sound.
A Stadia Pro subscription also lets players buy individual games outright at a reduced price.
Alternatively, from an undefined point in 2020 players can opt to go without a subscription, and pay for access to individual games on a case-by-case basis.
Today's big Stadia reveal - streamed over Youtube - endeavoured to assert that a diversity of game genres and forms will be offered. However, triple-A blockbusters were front-and centre of the stream, with only the seemingly energetic house removals party game Get Packed from Coatsink getting significant screen time to represent the indie games movement.
Currently the following games have been confirmed for launch:
Assassin's Creed Odyssey
Baldur's Gate 3
Borderlands 3
The Crew 2
Darksiders Genesis
Destiny 2
Dragon Ball Xenoverse 2
Doom 2016
Doom Eternal
The Elder Scrolls Online
Farming Simulator 19
Final Fantasy XV
Football Manager
Get Packed
GRID
Gylt
Just Dance
Metro Exodus
Mortal Kombat 11
NBA 2K
Power Rangers: Battle for the Grid
Rage 2
Samurai Shodown
Tom Clancy's The Division 2
Tom Clancy's Ghost Recon Breakpoint
Tomb Raider Definitive Edition
Trials Rising
Rise of the Tomb Raider
Shadow of the Tomb Raider
Wolfenstein: Youngblood
It is understood titles from Rockstar Games, Electronic Arts and Capcom are also planned for the November launch.
Google also confirmed that for now the only smartphones supported will be their own Pixel models. However, it is promised other mobile devices will be supported at a later date. Equally, Google pitched the specific Stadia Controller - retailing at $69 or £59 - as the best option for playing Stadia games. However, many other control devices including mouse and keyboard will be supported at launch, with more added all the time. The presumption is that many other platforms with a screen and internet connection will also be added.
Stadia will launch in the following 14 countries, with more added over time: the UK, the US, Spain, Netherlands, Belgium, Denmark, Ireland, France, Germany, Italy,  Sweden, Norway, and Finland.
AudienceCloud gamingCreativeDeveloperGamingGoogleMobilePlayersPublisherStreamingTechnologyVideo