Tencent and Riot rumoured to be partnering on League of Legends mobile
by Will Freeman on 24th May 2019 in News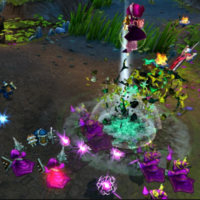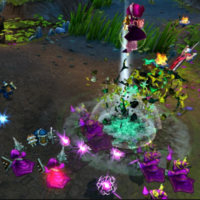 Chinese technology giant Tencent is understood to be partnering with Riot Games to bring the latter's globally popular PC game League of Legends to mobile.
While Tencent can feel like a company that dominates the headlines all too often, this one is simply too big to ignore. League of Legends is an absolute giant of the booming esports sector; an industry that is expected to reach a global value of USD$1bn (£788.7m) in 2019, according to figures from analytics and data outfit Newzoo. When a company with a mobile hit rate like Tencent's steps up to collaborate to take a leading esports title to smartphones, there's every chance the next revenue-generating gaming sensation is soon to land.
As new Superdata research points out, Tencent's Honour of Kings - also released with some changes internationally as Arena of Valor - was the top grossing mobile game worldwide through April 2019. Meanwhile, League of Legends was the top grossing PC game for that month globally. As such, seeing the companies behind each release partner on a mobile title brings huge potential.
However, Reuters - which broke the story - points out that League of Legends has previously been a point of apparent contention between Riot and Tencent. Reuters cites three sources as confirming the new partnership between the gaming giants. One of those sources reported that Riot had some years previously passed up a proposal from Tencent to work on a League of Legends mobile title. There is a suggestion that the two companies differed on how to make a League of Legends mobile game succeed.
Equally, when Honour of Kings arrived in China in November 2015  many drew parallels with League of Legends. The latter became sensationally profitable and popular, standing as the highest grossing multiplayer online battle arena game ever seen. It struggled, however, as the international Arena of Valour version.
Again, the details of the strained relations between the companies and their partnership come from Reuters' unnamed sources. There has been no official statement or insight on the matter, so these should ultimately be considered rumours.
It seems, though, that Riot and Tencent have made up. The sources claimed that the companies'  work on the current League of Legends mobile iteration has been underway for over a year, though it is hard to verify at this stage. A 2019 release for the game is not expected to happen.
It is also worth noting that mobile esports itself is continuing to gain traction, profile and credibility. While League of Legends boasts the greater heritage and reach than Honour of Kings, the potential on mobile is hard to overstate. China in particular is presently seeing vast take up in mobile esports.
League of Legends has done very well indeed in the PC space, of course. 2018 saw a 21% drop in its commercial success on the previous year, but in that period Riot's game generated USD$1.4bn (£1.1bn) of revenues, according to Statistica figures.
"League of Legends is like the World Cup whereas Honour of Kings is just the Asia Cup," one source told Reuters.
That may be the case, but the notion of League of Legends mobile creates a perfect storm for delivering one of the most successful games of all time. 2020 may be the year we see the biggest esports game there is come to smartphones just as competitive gaming on mobile explodes.
TheGamingEconomy will make a detailed analysis as soon as official information on any League of Leegends mobile title is made available.
AnalyticsChinaDeveloperesportsGamingMobileTechnologyTencentUncategorized