Basketball, Multiple Screens & Post Malone: Peripherals Outfit Debuts New Ad Campaign
by Will Freeman on 17th Jan 2019 in News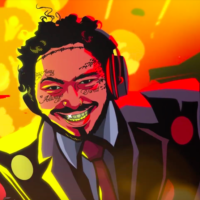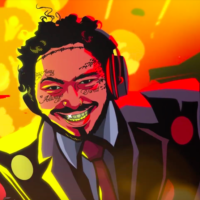 eSports-orientated gaming hardware outfit HyperX has launched a new ad campaign running across TV, digital, and social under the 'We're All Gamers' banner.
In doing so, the established specialist in high-end gaming keyboards, mice, headphones, and more, has demonstrated that for all the technological advances in securing inventory, reaching audiences, and delivering ads in-game, many of the old conventions of successful video commercials still apply. HyperX has partnered with numerous stars, is targeting high-profile televised slots like those amidst mainstream sports coverage and, in going with broadcast, seems to be proving that traditional channels still hold value.
The 'We're All Gamers' ads feature celebrities from eSports, music, athletes, and streamers. That means you can get excited – or be made to feel old – by seeing the likes of rapper Post Malone, basketball pro Gordon Hayward, or streamer Shroud star in the ads. There's also an appearance by competitive arcade player Daigo; he of the legendary 'Justin Wong vs Diago' Street Fighter battle, that might still be the most iconic moment from eSports, despite happening 15 years ago. At TheGamingEconomy we might not be so down on contemporary rap, but we've spent enough time in arcades to remember that Diago battle like it was yesterday.
You can get a taster of the coming HyperX ads right here:
Each influencer stars in the HyperX ads as themselves, before undergoing a transformation into an animated superhero. The ads will run in numerous spots, but for now HyperX's status as the new sponsor of the NBA Saturday Primetime telecasts means that the campaign is initially focused on the NBA finals and playoffs across TV networks ESPN and ABC.
The campaign has been pitched as being primed to utilise 'dual screen' media consumption habits. A typical example would be a user watching a live show on TV, with a phone in hand to engage in the social media activity around the main screen's programme. HyperX seems to hope viewers will be inspired to engage with the 'We're All Gamers' campaign on a second device during breaks, for example, in a given basketball game. While it's not clear exactly how HyperX's campaign encourages that kind of engagement, there is certainly a trend today that sees, for example, youngsters watch eSports on one screen while playing a game on another. HyperX is likely hoping to engage with that kind of viewer.
"The 'We're All Gamers' campaign was developed to introduce HyperX to passionate NBA and gaming fans", said Paul Leaman, vice president, HyperX, EMEA. "Our gaming influencer's creativity exuded and helped us to develop their HyperX-illustrated gaming spirits in the 2019 campaign."
After launching around NBA coverage on 19 January, HyperX has confirmed that the campaign "may" include placements on social media and VOD channels including Twitter, Instagram, and Facebook. Perhaps recognising the impact of Youtube-style 'skip ad' buttons on conventions around video commercials, HyperX's campaign is "designed for viewing in multiple segment lengths of 6-, 15-, 30-, and 60-second spots".
The campaign is also expected to head to Europe, and employ additional influencer celebrities to engage with the region's distinct audience. Again, engaging with the sports fanbase appears a goal; so far England and Tottenham Hotspur player Dele Alli has been confirmed for the European version of 'We're All Gamers'.
AdvertiserAdvertisingAgencyAudienceesportsGamingSocial MediaSponsorshipUncategorizedVideo