Are the International Olympics Committee Scared of the Internet?
by Lindsay Rowntree on 12th Apr 2018 in News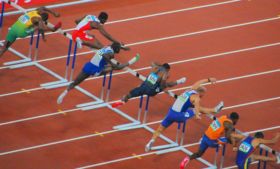 Despite many fears from across the globe about the 2016 Olympic and Paralympic Games, it was another highly successful world event. However, one particular area that brought up many questions from businesses, governing bodies, athletes, and viewers of the Games was why, in this day and age, there is still so much control being wielded by the International Olympics Committee (IOC) over the use of the internet.
From Twitter user accounts being shut down after Olympics videos have been posted, to non-Olympic sponsors being banned from even tweeting about the games, it begs the question how long the IOC can continue its vice grip on internet control in an increasingly social world.
The world was a very different place four years' ago: during the London 2012 Olympic Games, more than 150 million tweets were sent about the Olympics overall. Fast forward to #Rio2016 and over 187 million tweets were sent (a 25% increase), which led to 75 billion impressions of Tweets (both on and off Twitter) in total. A whopping 350 million people watched the Rio opening ceremony and there was active media engagement recorded from 3.7 billion people – that's 50% of the population who have interacted with the Olympic Games in some way – watching it on TV, tweeting about it, viewing a social media post, the list goes on – how can the IOC control this, and why would they want to?
The IOC are pretty clear about what they do and don't allow within the media during the Olympic Games – access rules issued by the IOC stipulate that they govern "the broadcast, coverage, and exhibition of the Olympic Games and any other form of exploitation, recording, representation, marketing, reproduction, access, and dissemination relating to the organisation and staging of the Olympic Games, by any means or mechanism whatsoever, whether now existing or developed in the future". So, by any means, existing or otherwise, the IOC has the right to clamp down on coverage not governed by them.
Of course, this doesn't stop your average Joe from tweeting about his favourite Olympian using the relevant hashtags. But if Joe decides to upload video content of the Olympic Games, the IOC will swoop.
It's an even murkier situation for brands wanting to tweet about the Olympic Games. As sponsorship of the Games doesn't come cheap – according to Forbes, a four-year cycle as an Olympic Global Partner will set you back USD$200m (£156m) – it's understandable why the IOC want to restrict non-sponsors from profiting off the back of the Olympic Games' name. But how can the IOC reliably uphold this ruling across a sprawling internet? Ahead of Rio 2016, ESPN obtained a letter from the United States Olympic Committee to athlete sponsors, stating they would be prohibited from using USOC trademarked hashtags, such as #TeamUSA on their corporate accounts. It even prevented them from using the terms 'Olympic' or 'Olympian'. It's very restrictive, yet not surprising, as this has always been the official party lines of Olympic committees; but this year, more than ever, questions abound as to how far these restrictions can be taken, without impinging free speech.
How would the IOC act differently? Can the IOC protect the Olympics' brand and the global sponsors of the event, while still allowing social media inclusivity? Can the IOC verify that non-sponsors or accidental copyright infringers, are in any way profiting from the use of banned words? There's a clear need to ensure the brand and the athletes' names are protected, but the IOC need to move on and find modern ways of achieving that goal.
ExchangeWire asked the industry for their views on whether the IOC are scared of the internet:
This hinders the nature of social media
From North Korea to the IOC, every restrictive institution is scared of the internet. Yes, the internet is inherently democratic, and the major platforms are very reluctant to censor content, but the IOC's move is hindered by the very nature of social media. First, social media doesn't rely on old-world creative assets, such as logos. It's quite easy to talk about the Olympics without using any asset that infringes copyright. Second, even if the IOC were to ban use of the word 'Olympics' by non-sponsors, they can't feasibly ban its usage among the social media universe or journalists; not all 29 million who mentioned #Rio2016. In this context, what's to stop a non-sponsor from discreetly encouraging influential social media commentators and journalists to talk about their brand? And, in the unlikely event that journalists get silenced à la Pyongyang, non-sponsors can easily bypass the whole system by sponsoring an athlete. Let's not forget that Coca Cola may have garnered 35,000 mentions during that games, but Michael Phelps, sponsored by Omega, has 10.4 million followers.
Sanjay Nazerali, Global Chief Strategy Officer, Carat 
The IOC are acting like a 20th-century dinosaur
The IOC's values are 'Excellence, Friendship, and Respect', and part of their story is about welcoming everyone who chooses to live by them. So, when the IOC talks about inclusivity, as a progressive brand you would expect it to match that level of openness in all areas of its organisation. But, from a brand perspective, it continually drops the ball.
First, there were the usual stories of banned words like 'performance', 'challenge', and 'effort', but this time it was extended to democratic spaces like Twitter. Then came allegations of the USOC bullying brands who might consider using 'official' hashtags to congratulate athletes during the Games. Finally, we heard that brands and unofficial press would be banned from creating GIFs using any official Games content.
Like a parent putting a veto on Minecraft videos because they fear Snapchat, these stories paint a picture of someone struggling to keep up with the modern world. The IOC may talk like a progressive, inclusive organisation, but often seems to protect their brand with the grace of a 20th-century dinosaur. But what if they changed their ways, and instead acted with the agility of a 21st-century gazelle?
Looking ahead, progressive brand thinking will be vital for Pyeonchang 2018 and Tokyo 2020. The world will be more mobile and personal, and video on demand will mean people will want high-quality live content wherever they are. Tokyo is eight hours ahead of London, twelve ahead of Rio and seventeen ahead of Los Angeles; so traditional broadcast channels are unlikely to be the natural home for a lot of live content.
With brands becoming content channels, what if they were allowed to broadcast alongside traditional streams? If Vice were a content partner in Tokyo, how would their point of view compare to Samsung's? Giving people creative free rein to broadcast what they want would show many more sides of the Olympics than the jingoistic cheerleading of the major broadcasters.
There have already been a few positive signs that the IOC is evolving in Rio. A broadcasting deal with NBC and Snapchat saw 50 million people view Rio 2016 content on the platform in the first week alone, reflecting the more immediate way people are consuming video.
Rob Coke, Group Strategy Director, Output Group 
This won't stop brands from marketing in the moment
The IOC's decision to ban most brands from getting involved in the Olympics seems unfair for those brands that cannot afford to be sponsors. Even if brands are prohibited from using certain words, it won't stop savvy brands from launching campaigns in the passionate moments that matter to fans. We call this 'moment marketing': when digital campaigns are launched in real-time to deliver powerful and relevant messages. In fact, we know from our own research that over a third (35%) of brands planned to launch moment marketing campaigns around the Olympics. These could be based on micro moments, like when a goal is scored in a match, or whenever a medal is won by a specific country.
Antoine de Kermel, EMEA MD, TVTY
This content was originally published in ExchangeWire.com.