Digital Lessons from this Year's Summer Olympic Games
by Lindsay Rowntree on 11th Apr 2018 in News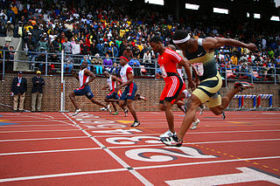 The Summer Olympics is one of the most anticipated sporting events for athletes and marketers alike. It captivates the attentions of over three billion viewers from across the world who tune in to the 15-day competition to watch their nations compete on the world stage. Gil Shoham (pictured below), co-founder and CRO, ironSource, writes exclusively for ExchangeWire about how the digital captivation of the Rio Olympics has evolved since 2012 and the lessons brands can learn for 2020.
It's no surprise brands want a piece of this attention. This year, that demand totalled a record USD$1.2bn (£0.91bn) in ad sales for TV network NBC, who also owned broadcast rights to the Summer Olympics in London where it earned USD$1bn (£0.76bn) in ad revenue.
But much has changed since the 2012 games, largely in the way that people today consume, interact with, and share media. With the Rio games now at an official close, let's examine several key takeaways that can help marketers better understand the changing media landscape.
Digital lands a medal
The Rio Games saw an unprecedented number of digital ad campaigns. Of the 482 advertisers that ran television ads, 349 ran digital simultaneously.
The Summer games in London can be seen as a catalyst to this growth. The 2012 games marked a historical level of social media usage, encouraging brands to embrace engagement in more digital terms. And, ostensibly, as attribution and tracking technologies become more adept at tracking cross-platform views, we can expect this trend to continue.
Within digital this year, advertisers spent their dollars around three major formats. Of the 349 campaigns from within the first 10 days: 87 were native, 108 were video, and claiming the majority was mobile, with 202 total ad campaigns. The breakdown is representative of how viewers experienced the games.
Adding to the case of digital is Procter & Gamble. The consumer goods manufacturer significantly boosted the reach of its iconic 'Thank You Mom' campaign with the help of online video platform YouTube, generating buzz around US gymnast Simone Biles and its Tide brand with over five million views, in just three short weeks. 1.2 billion minutes of Olympic live streaming is also proof that viewership has gone digital. Reaching large audiences does not necessarily require large budgets, just the right channels.
Mobile makes moves
TV viewership for this year's Olympic games was lacklustre, to say the least. Day one ranked a 5.5 Nielsen rating in the key 18-54 age demographic, a figure down 37% from the previous summer Olympics. Overall, viewership was down 17% in the first ten days, in comparison to the 2012 games.
Nielsen admits that TV viewership is in decline, and has been since 2009, while mobile traffic continues to grow. Brands that understand this significance seem to have found their footing, as the channel approaches USD$100bn (£76bm) in ad spend this year.
This shift can be attributed to changing cultural tastes. Consumers now prefer their content on-demand, in more snackable portions, but also with the option to binge in fuller formats, that tablet devices offer. President of media development for NBC, Alan Wurtzel, adds colour to this trend, stating that 80% of viewers who tuned into the first three days of the Games on television were also on their mobile devices. That number is a 61% increase from the Winter Olympics just two years prior. At this rate, it's not farfetched to believe that the second screen could eventually become the primary one.
While broadcast TV still claims the lion share of Olympic views, this year's massive mobile turnout suggests this may not be the case for long. Savvy marketers will continue to explore the channel as it picks up steam leading to the 2018 Winter Games.
Snapchat's Olympic debut
Olympic sponsorships are a massive marketing cost, costing sponsors anywhere upwards of USD$200m (£152m) for a four-year cycle. But forgo this option, and you're subject to IOC regulation Rule 40.
Even in its friendlier form, the advertising regulation makes it difficult for brand advertisers outside of the official sponsor list to carry an Olympic motif. For example, a non-USOC sponsor is prohibited from displaying the Olympic rings in any of their creatives. Even the usage of specific references, such as an athlete being awarded a gold medal, can net you a fine.
This was only a minor deterrent for auto manufacturer Ford however, who opted out the Olympic sponsorship card this year and took a more creative route in capturing the essence of the games. It's muse? Snapchat.
The mobile-only social platform was recently selected as one of the first strategic partners for Olympic content distribution. The channel generates over 10 billion video views a day and has become a key component for brands in reaching younger audiences.
Ford agrees. The auto maker launched its largest Snapchat campaign to coincide with the partnership and the rise of the second-screen, dominantly millennial, audience. The result was over 30 snap ads served through 'Snapchat Stories' and the Buzzfeed Snapchat Channel. But the campaign didn't stop there. The vertical-video theme was adapted for Ford's television ad, in which a compilation of Snapchat videos alluded closely to a variety of Olympic activities, precariously erring on the side of caution to not violate rule 40 and doing so impressively well.
The campaign marked a symbolic moment for Ford and its ad agency, WPP's GTB, a duo that prides themselves on forward-thinking campaigns. Lisa Schoder, Ford's digital marketing manager adds in a recent Adweek interview, that the campaign "acknowledges what's happening in culture and embraces that". That embrace has proven successful. Ford was able to position its brand positively in the Snapchat video stream reaching the 50 some million unique visitors who viewed the Olympic channel.
Ford spent USD$139.2m (£105.9m) overall, a relatively small investment compared to that of a sponsorship, and made a lasting impact without the need for an Olympic crutch.
The Closing Ceremonies of the 2016 Games concluded what was the most digital Olympics to date. It's an appropriate reminder that brands must always innovate to stay relevant, not only within their creative means, but also the channels in which they invest.
This content was originally published in ExchangeWire.com.