Google CEO: Game publishers want to see our commitment to Stadia
by Will Freeman on 1st May 2019 in News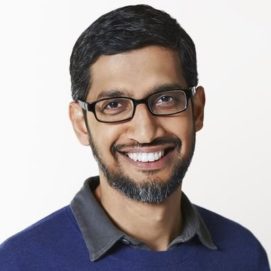 Google CEO Sundar Pichai has revealed that game publishers have been keen for the tech giant to assert its commitment to its new Stadia streaming platform.
Revealed at GDC earlier this year, the Stadia platform offers consumers a cloud-based gaming system. In short, users would have access to a wide library of  games – including technologically demanding triple-A titles – without the need to invest in expensive, powerful home-gaming hardware. Stadia promises to bring gaming to myriad devices with a screen – from laptops to televisions to phones – without the need to ever download a game or even an update.
Cloud gaming platforms are nothing new, but few have made a significant impact to date. However, with Google bringing its impressive financial might and established technological ecosystem, there are reasons to be optimistic about the potential of Stadia. Since the big reveal of the gaming system in March, however, there has been little new information on the platform. Now, however, Google has hinted at how establishing Stadia is playing out.
In a results and earnings call for investors and shareholders in Google's parent company, Alphabet, earlier this week, Credit Suisse's Stephen Ju pressed Google on how things were going with Stadia, specifically with regard to the interest and involvement of larger PC and console publishers, and any push back Google may be facing from those gaming companies. Ju's enquiry seems purely speculative; there has been little reason to suspect that a major push back is underway. However, Pichai's response remains fascinating.
"We see genuine excitement, because I think, they see the opportunity for a shift, a point of inflection, but they realised the technical challenge of pulling something like this off," Pichai responded in the call, which was transcribed by Seaking Alpha. "And so, but once they get their hands on with the technology and then they see the experience, I think, completely wins people over.
"And so we are having conversations across the board, and I think people are definitely engaging in a very committed way and they are investing in it and so it's up to us to bring it all together and have a compelling service later this year, and that's what the team has had done [sic] working on.
"But I think, not push back per se, but they want to see our commitment, which is what we demonstrate and they are working hard to make the investments on their side. And so it's a big joint effort and it's working well."
While Stadia does have huge potential, establishing its technological ecosystem will take a significant effort, and not just from Google in isolation. Technical details may remain in short supply, but Google have demonstrated some impressive features, such as the ability for users to switch instantly from watching a game on YouTube to diving in and playing it instantly within the video platform. To enable that, game developers or publishers would very likely have to integrate some kind of solution into their titles, even if that's just adding a simple Stadia API.
Clearly, there is some sense that Google needs to do a little work convincing game companies. There is little suggestion that there is broad or significant scepticism about Stadia from the game industry's major players, but by the Google CEO's own admission, there is an effort underway to pull the Stadia ecosystem together with a view to ensuring it meets its potential.